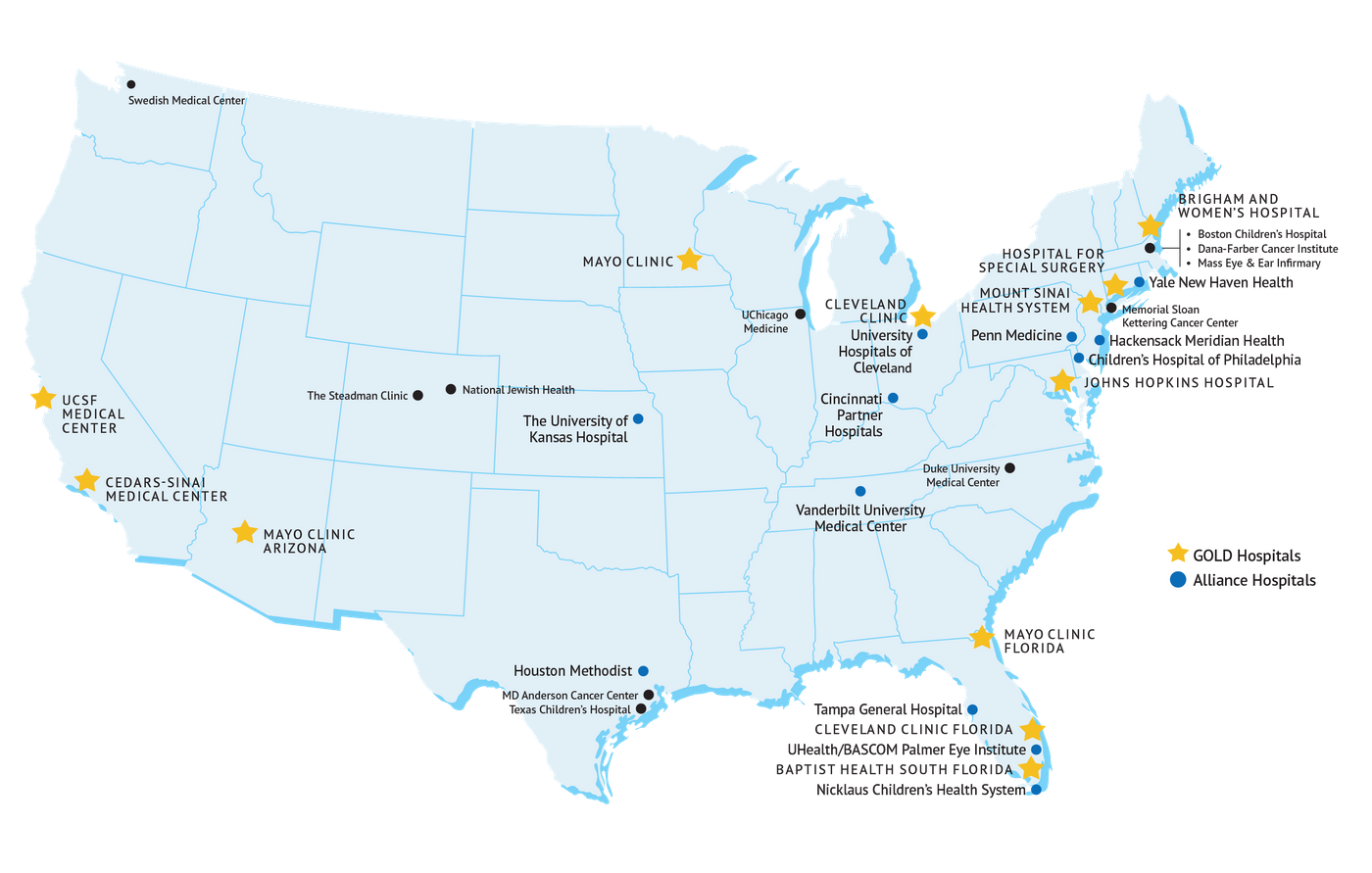 NorthEast
★ Brigham & Women's Hospital, Boston, MA
Boston Children's Hospital, Boston, MA
● Children's Hospital of Philadelphia, Philadelphia, PA
Dana-Farber Cancer Institute, Boston, MA
● Hackensack Meridian Health, Hackensack, NJ
★ Hospital for Special Surgery, New York, NY
★ Johns Hopkins Hospital, Baltimore, MD
Massachusetts Eye and Ear Infirmary, Boston, MA
Memorial Sloan Kettering Cancer Ctr, New York, NY
★ Mount Sinai Hospital, New York, NY
● Penn Medicine, Philadelphia, PA
● Yale New Haven Health, New Haven, CT
MidWest
★ Cleveland Clinic, Cleveland, OH
● Cincinnati Children's Hospital Medical Center, Cincinnati, OH
● Lindner Center of HOPE, Cincinnati, OH
★ Mayo Clinic, Rochester, MN
● The Christ Hospital Health Network, Cincinnati, OH
● The University of Kansas Hospital, Kansas City, KS
● UC Health – U of Cincinnati Medical Center, Cincinnati, OH
● University Hospitals of Cleveland, Cleveland, OH
● UChicago Medicine, Chicago, IL
South
★ Baptist Health South Florida, Miami, FL
● UHealth/BASCOM Palmer Eye Institute, Miami, FL
★ Cleveland Clinic Florida, Weston, FL
Duke University Medical Center, Durham, NC
Emory Healthcare, Atlanta, GA
● Houston Methodist, Houston, TX
★ Mayo Clinic Florida, Jacksonville, FL
MD Anderson Cancer Center, Houston, TX
● Nicklaus Children's Health System, Miami, FL
● Tampa General Hospital, Tampa, FL
● Texas Children's Hospital, Houston, TX

● Vanderbilt University Medical Center, Nashville, TN
West
★ Cedars-Sinai Medical Center, Los Angeles, CA
★ Mayo Clinic Arizona, Scottsdale, AZ
National Jewish Health, Denver, CO
The Steadman Clinic, Vail, CO
Swedish Medical Center, Seattle, WA
★ UCSF Medical Center, San Francisco, CA
GOLD (★) and Alliance (●) hospitals have dedicated offices and liaisons who assist Healthnetwork supporters.
Not all hospital partners are included here.
Healthnetwork is proud to partner with Lindner Center of HOPE, as well as many other behavioral health and addiction treatment partners.
Your children will be well cared for with partners like Cincinnati Children's Hospital Medical Center, Children's Hospital of Philadelphia and Nicklaus Children's Health System, as well as many additional top pediatric hospital partners across the nation.