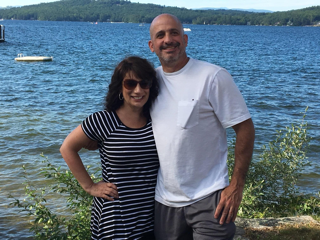 Robin Tretter
Bradford, MA
"I just celebrated one year of being cancer-free. Life does not get better than this! Healthnetwork, it all started with you, and because of you I have many more tomorrows."
"Last May, I felt a strange lump in my abdomen while exercising."
"I went to my primary care doctor and after many tests and scans, I was told I had an ovarian cyst. My anxiety skyrocketed when my doctor recommended that I see a cancer specialist. I was at a loss until I remembered the family office I work for has a partnership with Healthnetwork, so I made a call for help."
Robin worked with Stephanie at Healthnetwork and they determined that Dana-Farber Cancer Center/ Brigham and Women's would be a great place to start. Stephanie made the connection for Robin to the liaisons at Brigham and soon after she had an appointment with Ross Berkowitz, MD, who is the Surgical Director of the Gynecologic Oncology department.
"I feel very lucky to have such a gifted surgeon."
Dr. Berkowitz removed a very large tumor that was soon diagnosed as stage 1 ovarian cancer. Robin was appreciative of the compassion of Dr. Berkowitz and his team. To prepare for surgery, they had Robin take part in a guided meditation program.
"I did the work they requested and because of it I was much less afraid of surgery, in fact, I told myself over and over that there would be a positive ending.
I believe it to be a miracle that everything worked out so well. There is so much I could have missed if I had not followed up on this. I was able to see my son graduate and my husband and I celebrated our anniversary. I can't imagine having to miss those events and all of the events I have yet to experience."
"COVID-19 is making us live differently now..."
"For me I am concentrating on the 'living' part of life. I can't say enough about the caring and compassionate people who were part of my story. Thank you!"