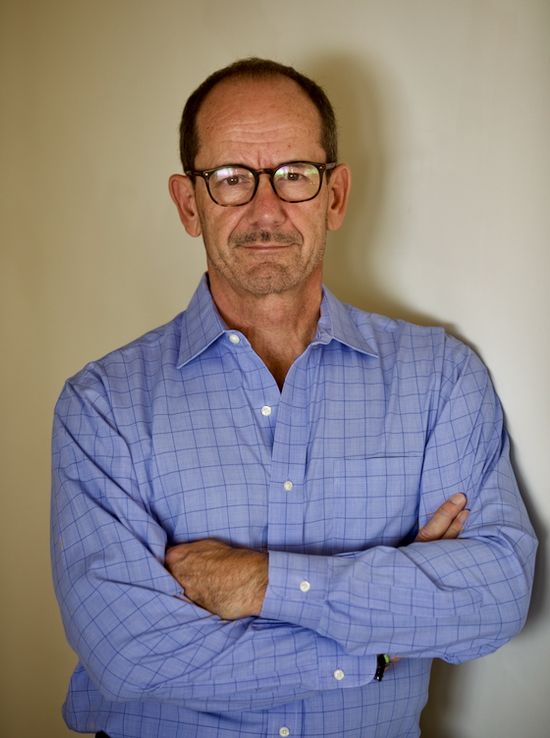 Fred Thiel
Chairman & CEO at Thiel Advisors, Inc. | Dana Point CA
Fred Thiel was no stranger to back pain. Four years ago, after suffering from a bad bout of sciatica, he was diagnosed with spondylolisthesis at his L-5 vertebra. At that time, his L-5 vertebra was displaced 11 millimeters, and he was able to get relief with a strict regimen of physical therapy and traction.
But over time, Fred started experiencing worsening tingling sensations in his calf and pain in his hip. He knew it was time to act. After x-rays and an MRI, Fred's doctor broke the news that his vertebra was now displaced 16 millimeters, and he needed surgery right away.
In Search of the Best
When Fred learned he might need a surgical fusion and that doctors would need to attack it with incisions from the front and back, he hesitated. He did what many CEOs and business leaders do. He asked his friends for recommendations. This surgery could make or break him. He wanted the best, and he didn't want to wait.
Fred also made a request through YPO's Member-To-Member Exchange, asking for the best spine surgeon in LA. The administrator reached out to him immediately and promised that they would ask other YPO members for suggestions, and that Julie Brasfield, PA-C, Healthnetwork Foundation's Clinical Manager, would be calling him soon.
"Julia quickly understood my resistance to the drastic surgery," says Fred. "She suggested a talented spine surgeon at Cedars-Sinai Medical Center, Terrence Kim, MD, who Healthnetwork had recently awarded with a research donation in honor of his compassion and medical excellence. She confirmed what I was learning online—that Cedars was making incredible strides in innovative spinal surgery techniques."
Julia and Cecilia (Healthnetwork liaison at at Cedars-Sinai) were able to make that connection quickly. Fred met with Dr. Kim, and upon reviewing Fred's scans and x-rays, Dr. Kim seemed confident that Fred's pain was caused by pressure on the nerve roots. A laminectomy (spine surgery) was scheduled, and Dr. Kim outlined his plan of attack, which involved innovative, minimally-invasive surgical techniques to get Fred back on his feet quickly.
"It was incredible! He told me I would be able to go home the day after surgery," says Fred. "The surgery would 'extend the runway,' in other words, buy more time before a more drastic surgery was necessary."
Bespoke Concierge Service
The COVID-19 pandemic derailed Fred's first surgery date, and he was told it could be several months until surgeries could be rescheduled.
"Julia was incredible in following up with me and Cedars to make sure that I could have the surgery I needed," added Fred. "In fact, she and Cecilia provided bespoke concierge service—this is how medicine should be! I felt I could trust them to truly be my advocate."
Fred lives in Dana Point, California, which meant that Cedars was about an hour away. Preparing for surgery took some inventiveness on everyone's part and Dr. Kim's team managed it all. Telemedicine appointments with Dr. Kim provided Fred updates on the surgery. Pre-op testing was arranged with a local medical group. COVID-19 testing was done at Cedars-Sinai.
"Dr. Kim was good at managing my expectations," says Fred. "He told me that they would be more aggressive in this surgery to tackle more of the problem now, rather than wait and having to do more surgery later. On the day of surgery, it was like I was checking into a five-star hotel. Registration was taken earlier, and all I had to do was sign forms and then go up to pre-op. A few hours later I woke up and Dr. Kim shared that the issue was worse than expected. However, he felt good about the surgery and promised to continue following up with me and my wife, Kelly."
Feeling Good!
While Fred was in surgery, Cecilia spent time with Kelly and also secured a private suite for his recovery. They were not rushed the following day, and Fred was happy to report that he was able to walk and no longer had the tingling sensation and hip pain. Normal surgical pain was manageable, and Fred was able to start making business calls a few days after surgery. Five days post-op, Fred was on just over-the-counter pain medicine and able to walk a mile.
"I am so appreciative of everyone who I worked with at Healthnetwork and at Cedars," says Fred. "They were all focused on making this experience great! Dr. Kim and his team were phenomenal through the whole process. They even called every day after surgery to check in with me. Their care seemed genuine. I can't believe how great I am feeling. I know of someone who opted for the complicated surgery months ago, and he still is in pain. My experience was so good, I told my wife we would work with Healthnetwork on a medical issue she was facing."
Fred Says…
"I have told many of my YPO chapter mates that M2MX and Healthnetwork are the most under-sold and under-utilized benefits in YPO. Like many others, I once thought of it like insurance—it would be there when I needed it. Boy did I underestimate what they could do.
Make Healthnetwork your first call when you have a medical issue, not your last call. They have the uncanny ability to connect you with the experts you need. There really is a difference between going with a peer recommended 'good doctor' or going to the best doctor through Healthnetwork.
We are in an optionality culture. Better options are available, and Healthnetwork is one option all YPO members need to know about. As YPO members, many of us want to make sure we have the best—and that is what Healthnetwork delivers!"